Turkish Teaching Hospital (Alturki)
The Turkish Teaching Hospital (TTH) was established by a grant from the Government of Turkey, and subsequently owned and operated by the Khartoum Ministry of Health. It serves 1.8million patients in southwest Khartoum and has busy Maternity and Pediatric Services. In 2020, SAMA installed Central Oxygen Supply which reliably delivered oxygen to 50 beds at a cost of $18,000. The unit was monitored by SAMA staff from September 2020 to October 2021 and was continuously working without interruption.
Elnefeidi Primary Health Clinic
Elnefeidi Group established the Primary Healthcare Center (PHC) in Alhaj Yousif (a neighborhood in Bahri – Khartoum North) in memory of Omer Bashir Elnefeidi. In 2018, Elnefeidi Group selected Sadagaat Charity Association & SAMA to operate the clinic to provide a better service. SAMA was responsible for equipping the laboratory & staff salaries from May 2018 to May 2020. During that time, the PHC service significantly improved and became fully operational after a long hiatus of disuse.
Wad Medani Maternity Hospital
In 2017, with a grant from Zakat Foundation, SAMA installed a state-of-the-art Intensive Care Unit in Wad Medani OBGYN Hospital. Each bed is equipped with a monitor, Syringe & infusion pump, and suction machine. The unit also has a 12 lead ECG and Defibrillator. Staff received training in resuscitation & generic skills.
Soba University Hospital
In 2017, SAMA imported state-of-the-art Colposcopy Equipment from First Health of the Carolinas Hospital System to diagnose and treat early cervical neoplasia. SAMA also trained more than 200 OBGYN physicians in colposcopy.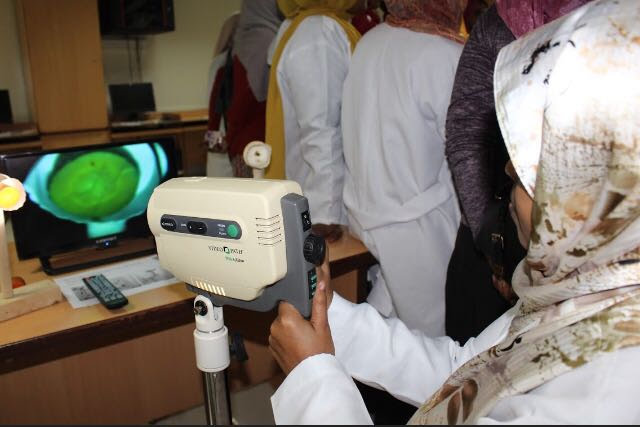 Khartoum Dental Teaching Hospital
Surgical Missions from the USA that operated on more than 100 patients (over 7 years)

Imported Operating Microscope (first in Public Sector)

Transfer of advanced surgical skills from US to Sudan

Enhancing patient safety by the introduction of advanced anesthesiology skills
Heart Hospitals
Wad Medani Heart Hospital
Ahmed Gasim Hospital

In 2017, SAMA donated a mitral valve retractor (Genesee Biomedical, Denver, CO, USA, $7995 cost) to Ahmed Gasim Hospital. This device gives the cardiothoracic surgeon better visualization of the mitral valve and enables them to perform mitral valve repair (which is superior to mitral valve replacement in select patients.
Shaab Teaching Hospital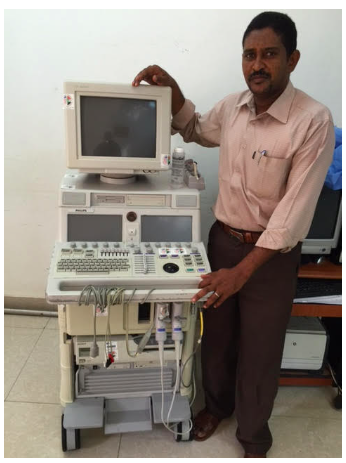 An Echocardiography machine performs ultrasound examinations of the heart to diagnose heart disease and is considered the cornerstone of modern cardiology practice.
In September 2014, SAMA received a donated echocardiography machine ($17,000) value from Detroit Medical Center's Heart Hospital. SAMA purchased an additional imaging phased array probe ($1400) and conducted an independent evaluation to confirm the quality of the donated echocardiography machine. The machine was then stored pending the OFAC license and then packed and shipped to Shaab Teaching Hospital in Khartoum, Sudan.