Background
Postpartum hemorrhage & Pre-eclampsia are the leading causes of maternal mortality worldwide. With over 75% of births occurring at home by community midwives in Sudan, it's imperative to ensure that the midwife is equipped to identify the signs and manage cases of postpartum hemorrhage and Preeclampsia to reduce maternal mortality in rural communities.
Partnership
jhpiego, a large nonprofit organization affiliated with Johns Hopkins University, has developed training modules for community midwives: Helping Mothers Survive-Bleeding After Birth module (HMS-BAB), & HMS-Preeclampsia and eclampsia (HMS-PEE). In partnership with the Obstetrical & Gynaecological Society of Sudan and the University of Gezira, SAMA
Achievements
● Translated the modules into Arabic
● Trained 1,471 community midwives and 161 master trainers on HMS-BAB
● Trained 777 community midwives and 137 master trainers on HMS-PEE
● Delivered over 2,000 clean birth kits to community midwives
Geographic Distribution of Midwives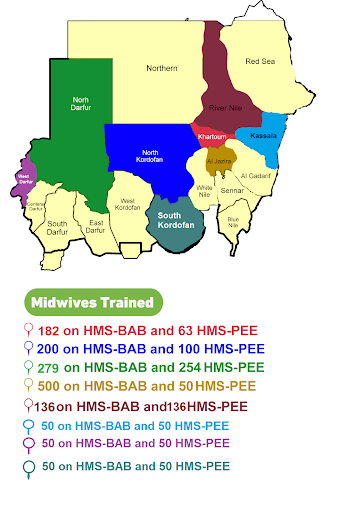 Midwifery Workshop – Example
Background
Following the success of the national expansion of the Helping Mothers Survive modules in Sudan, the Federal Ministry of Health -Child Health Program invited SAMA to include the Helping Babies Breathe/Essential Newborn Care (HBB/ENC) module in the in-service training of community midwives.
Achievements
Trained 23 master trainers on HBB/ENC

Trained 144 community midwives in rural Sennar state
Midwifery Workshop – Example